Many GSM networks increasing their 4G coverage and many mobile manufacturers has started to manufacture 4G ready devices. Motorola ATRIX is a one of the first Motorola 4G phone and it's for the ATT network.
when i see this phone at first time, i thought it as a minimized version of Galaxy tablet. any way it's a nice phone which has nice finish. it has rounded corners and nice back cover.
Motorola ATRIX has a 4 inch TFT capacitive touchscreen and the screen resolution is 540 x 960 pixels. there is a very unusual feature of this phone, that is it has a built in Biometric fingerprint reader. i have never seen this kind of feature in a mobile phone before. the outer glass of Motorola ATRIX is made by scratch resistant Gorilla Glass material. like in Galaxy tablet, it has four touch sensitive controls at the bottom. Motorola ATRIX comes with the latest version of MOTOBLUR UI and it supports live widget feature.
the internal memory of this phone is 16GB and it supports up to 32GB memory cards. Motorola ATRIX runs with the Android 2.2 OS but it can be upgraded to the 2.3 version. it powered by a 1GHz ARM Cortex-A9 Dual-core processor and has a 1GB RAM. it also has a ULP GeForce GPU which processes high quality graphics.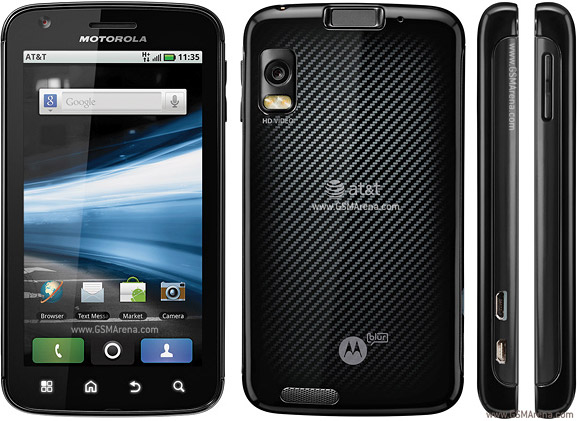 Motorola ATRIX has a 5Mp camera and it can record 720p videos at 30fps. it has a built in HDMI port so you can directly play recorded videos via a HDTV. also its media player can play up to 1080p HD videos. as other features, Motorola ATRIX has a GPS receiver, a digital compass and comes with lots of pre-installed applications.
Read More!